Wednesday, June 11, 2008
Obama's "women problem"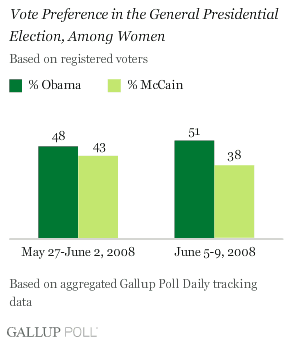 From Gallup:
Since Hillary Clinton decided to concede the Democratic nomination to Barack Obama last week, Obama has established a lead over Republican John McCain in general-election polling. Obama's gains have come more from women than men, though he has picked up among both groups in recent days.

Obama's lead among women has now expanded from five percentage points to 13, while his deficit among men has shrunk from six points to two.
I hope this finally shatters the myths, perpetuated by the media, that women weren't supporting Obama and that those who weren't never will. They were and, as this poll shows, they most certainly will. Game on, St. McSame.
Posted by Kevin K. on 06/11/08 at 08:31 AM
Permalink