Friday, July 20, 2012
Not Ready to Make Sense of the Aurora Shootings Just Yet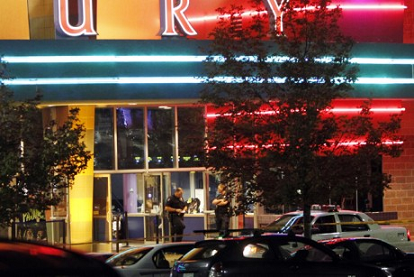 When something tragic and senseless like the cinema massacre happens, it seems to me that as soon as the the "thoughts and good wishes" are passed on to the victims, their families and their community, the next response of many people, even well-meaning people, is to try and make sense of it all. It's natural to want things to have reasons. It's natural, I think, for people looking at the enormity of the harm any human being can do to others, to want to understand the why and how of it.
I'm not exactly interested in making sense of it. The midnight showing of what will be a major summer blockbuster—an outing of fun for many people who looked forward to this movie for some time, to which some even brought their young children, who must have been nearly as excited about staying up so late as about seeing Batman—was made the site of terror, pain, and death. If that isn't a view of things that makes your heart so heavy it breaks the soapbox you stand on, well…. Of course—it doesn't. Human beings are signifying creatures—we seek meaning. And so a reporter who should know better wonders aloud in front of a tv audience if the killer is the same guy who has a Tea Party membership, and a Breitbart blogger posts that the killer is a registered Democrat. And the words "terrorism" and "insanity", and the apparent example regarding our fucked up gun laws in this country, and our impressions of race and class and all the mix of things we get and know are trotted out and puzzled over, before we even know all the details, and when rumor is still mingled with fact like peanut butter and jelly in a sandwich.
The US is a country where we have school shootings, mall shootings, post office shootings, and so help us, now movie theater shootings. One in five of our citizens suffers from mental illness and we all have access to all the guns we can manage and more besides. A small, but insistent, chorus, would like to have us believe that the remedy to our violence is more guns, and a larger, but cowed group murmurs that less guns might do even better. A member of our oldest established criminal class, and a man apparently fashioned of chewed gum and a small portion of hair, whose assignment on Capitol Hill is no doubt so the people of his district can watch their village dunce operating at a safe distance away from them, insists that these things wouldn't happen if we loved God more, notwithstanding that many of our historical shooters thought themselves in good standing with the deity of their choice, and that most people's immediate response to the terror is to offer prayer.
As yet, it hasn't emerged whether the shooter in this case is a person with any political view at all, or someone who simply suffered a grave and unaddressed mental illness. Or any combination of grievance and frailty. We don't know. And that's why when the news media and pundit class give space to speculation and air "profilers", I just can't care. I feel like there should be meaning—I don't expect it in the world we have. And some of the signifying that fills the void seems less appropriate as we draw back and see more of the story.
I don't know what is needed to prevent these kinds of tragedies. I withhold anything more than my share in the sorrow for lost life and disturbed peace.
Posted by Vixen Strangely on 07/20/12 at 09:19 PM
Permalink