Monday, August 18, 2014
A Body's Story and A Burning Town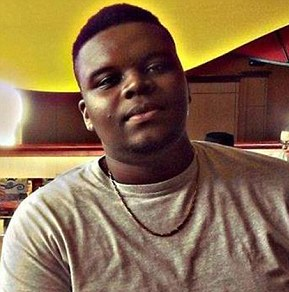 Just moments after my Twitter feed advised me that the Ferguson PD elected to crack down on the curfewed protesters and journalists about two hours early, I got a good idea about why—
The independent autopsy of Michael Brown's body had been released (and where is the autopsy from the local ME? one might well ask, as well as ask why another federal one might be requested before this young man's bones are put to rest). And the wounds tell a story. They can't not.
"People have been asking: How many times was he shot? This information could have been released on Day 1," Dr. Baden said in an interview after performing the autopsy. "They don't do that, even as feelings built up among the citizenry that there was a cover-up. We are hoping to alleviate that."

Dr. Baden said that while Mr. Brown was shot at least six times, only three bullets were recovered from his body. But he has not yet seen the X-rays showing where the bullets were found, which would clarify the autopsy results. Nor has he had access to witness and police statements.
But the entry wounds to the arms and head of Michael Brown from a distance suggest to me shots not to incapacitate but kill—two to the head? I think he was down and his hands may have been up to shield himself—a totally submissive posture and not out of line with what eyewitnesses have indicated. And I don't really have time to argue why this is not what anyone does with a suspect picked up for walking in the street who may meet the description of an unarmed person who boosted some 'rellos from a convenience store.
Posted by Vixen Strangely on 08/18/14 at 12:12 AM
Permalink