Wednesday, March 04, 2015
Clap Harder for Tinkerbell, Damn You!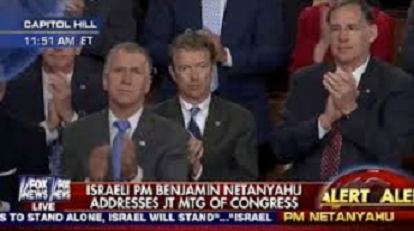 A person could well ask why there were so many standing ovations for Israeli President Benjamin Netanyahu at his pretty basic speech yesterday, but gosh—who doesn't know? It's because if you are not clapping briskly, comrade, what are you thinking?
Because this is where the politicization of foreign policy has taken us. I've offered my immediate impressions of why being impressed with the speech is kind of wrong, because it's wrongly-premised and offers no legitimately not-awful strategy on my "boutique blog", but my longer term concern is that Netanyahu thinks we're easy. When it came to entering the Iraq War, you bet a lot of us were. But we can learn from history. And history did not really support the action of invading Iraq, and that the WMD claims weren't solid absolutely did matter.
The other concern I have is that we've dumbed down the discourse so far that the knee-jerk "Hitler/Chamberlain" thing is supposed to work on us like we're Pavlov's trained dogs. Netanyahu hinted at it in his speech, but smart-person-talking-down-to-dumb-people-and-overshooting-the-mark Ted Cruz just brings it out like that (like the demagogue he is). As lazy and inaccurate analogies go, it's way up there, for me. Negotiation is in essence a give and take—something has to give. That's not appeasement. (Also not appeasement are détente, economic sanctions, and bombing the shit out of people without "boots on the ground".) And I am at a loss to see how the influence of Iran in any other nation is exactly like, say, invading Poland. For that matter, what would we call the regular negotiations Reagan and Gorbachev made together? Appeasing the Soviet Union?
In any event, I never really clapped for Tinkerbell, myself. Sometimes one might, politely, clap so as not to be a fink, when everyone is pulling for a hero. . But the whole Lost Boys and Peter Pan dynamic was f'd up IMHO and Tink should have gone out like a G to inject a little adulthood in Neverland.
Posted by Vixen Strangely on 03/04/15 at 09:09 PM
Permalink