A Portrait of the Artist as a Man of Decent Hygiene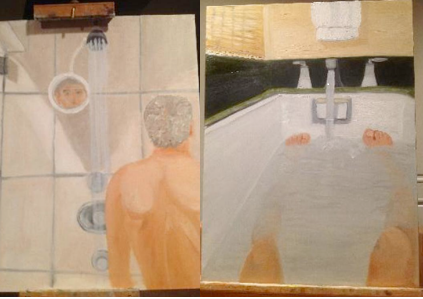 It appears that the Bush Family (yes, that one) got hacked recently, causing several personal emails and pictures to come floating out where people can see them. I don't endorse this kind of thing, myself. I think everyone should be entitled to some privacy. However, I can't resist commenting on the two works of the hand of former president George W. Bush because there's something so solitary and bath-centered about them.
I've tried not to read other art criticism regarding the pieces because I like to keep my impressions fresh, and I'm sure there will be no small amount of speculation over the subliminal "coming clean" motif due to the pictures both involving Bush in the state of, well, becoming clean. It should be noted that as these are self-portraits, one might expect the painting to reveal something about the artist—I don't know that it does. The bath portrait reveals legs mostly submerged in water. The shower portrait is more oddly composed, giving the viewer the perspective of gazing over the subject's shoulder, yet being able to glimpse his face at an odd angle in the reflection of a shaving mirror. It is hard to refrain from speculating about what this says regarding the psychological state of the artist, himself. I will note that the bathroom is the one place where people can find themselves truly alone, the bath or shower where one finds oneself naked. It is a place where one performs daily rituals of hygiene, but it is also a place of vulnerability.
But the choice of the bath or shower for the settings of Bush's self-portraits could also mean no more than that, in retirement, he's simply taking a heck of a lot more showers and baths. He has the time to be clean now. The inner self of the artist remains a puzzle. If it exists, at all.
I'm sure our Roasters can derive more insight into what is here than I have, however, so I'll leave it to you.
Posted by Vixen Strangely on 02/08/13 at 11:45 PM • Permalink