Apparently, this is Some Kind of "New Year"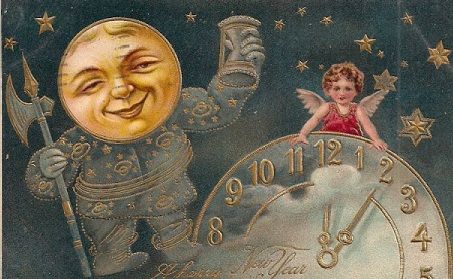 As a New Year's Day "miracle", the House of Representatives succeeded in dropping the "Hastert Rule" (a formality that left Speaker of the House John Boehner's hands tied regarding any bill that didn't appeal to the "majority of the majority") permiting the Speaker, who had recently recited the Serenity Prayer on the floor of the House,to look to a Higher Power to get shit done—namely Nancy Pelosi, who actually doesn't have a problem getting her caucus to do things. Thus, the fiscal cliff bill passed overwhelmingly by the Senate was given its chance in the House, where it received enough bipartisan votes to make it into law.
Is it a good bill? Well, it isn't better than nothing as far as deficits go. Nothing, just going off the fiscal cliff and that's that, would have done some good re: spending and revenues, but I think its sort of anti-stimulus effect might have retarded growth and f'd up the GDP and other things that make us look like we're slogging our way out of recession. Or even more wretchedly, we'd have to get used to people saying stuff like "double-dip recession". What is that supposed to mean? I know what a double-dip ice cream cone is. Double dip recession just sounds like we were in a recession and, guess what? Still are—again! That's dumb. Why wouldn't we call it "post-fake-recovery" or something like that? But anyhow, we are in the midst of a recovery, and I'm kind of glad Congress didn't decide to screw with it too much.Because in the long run, I'm less concerned with deficits than I am with regular people not getting so totally shafted as they could have been regarding UI benefits, and stuff.
Does it signify anything in particular for the GOP-held House? I think—maybe? Cantor was against the change on the Hastert rule and this bill, and maybe Boehner's decision to put the outcome of this legislation in the hands of a power greater than himself is a harbinger of a challenge to his Speakership. All I really know for sure is that this kind of looks like a Dem win, doesn't it?
You can tell me if I'm wrong.
Posted by Vixen Strangely on 01/01/13 at 11:45 PM • Permalink