Because Disasters Bring Out the Best in Folks—They Say.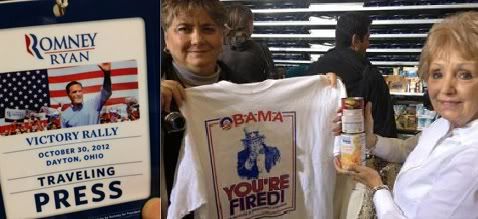 Let's start with the obvious—Romney's Campaign is not suspended. You can tell, because they are still lying about stuff. They've decided to pretend they are also doing some "relief events", because they will be taking non-perishable items that no one wants and send them to—where did the worst of it hit—oh, that's right, New Jersey. I'm not kidding:
On a day when millions of Americans face serious hardship as they recover from Hurricane Sandy's damage, Mitt Romney clearly decided it would be crass to campaign in a conventional way. So he turned a scheduled rally in Kettering, Ohio, this morning into a "storm relief event," and posed before piles of donated canned goods.

"We're going to box these things up in just a minute and put them on some trucks, and then we're going to send them into, I think it's New Jersey," he said, according to the Washington Post. "There's a site we've identified where we can take these goods and distribute them to people who need them."
You can feel the love in the above picture, that's for sure. I'm not even going to dwell on Mitt Romney, because there's more examples of disaster bringing out the best in people—like the Obama Administration getting advice from an old hand at dealing with bad situations: Former FEMA Director Michael Brown.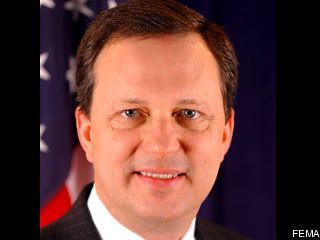 You might wonder what Bush's FEMA head—famous for being the guy who did a "heckuva job" during Hurrican Katrina—had to say. After all, if folks learn from mistakes, he probably has a lot of wisdom to impar—meh. Here's him:
"One thing he's gonna be asked is, why did he jump on [the hurricane] so quickly and go back to D.C. so quickly when in…Benghazi, he went to Las Vegas?" Brown says. "Why was this so quick?… At some point, somebody's going to ask that question…. This is like the inverse of Benghazi."
Wow. Look at him pairing a weird criticism (Obama reacted too quickly to a natural disaster—which is kind of time-sensitive if you want to save lives and stuff?) with a partisan smear. You go, Michael Brown! I mean seriously. You go, now. Heckuva a job staying under a rock, dude.
Oh, and finally? I wasn't going to give this guy attention, but here:
He obviously needs some kind of attention—like a gangrenous appendage. (Amputation?)
You know, I think my title may be misleading. I meant, "OMG the assholes." Sorry about that.
Posted by Vixen Strangely on 10/30/12 at 06:28 PM • Permalink