Former Romney Advisor Has New Career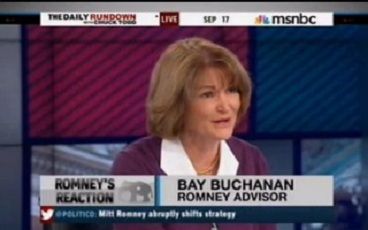 Via Rawstory, it looks like Bay Buchanan, former Romney campaign spox, has canned punditry for real estate:
Just two days after the election, Buchanan started an online real estate course and recently became a sales associate for McEnearney Associates Inc. in McLean, Va.

"Being somebody that they kind of know will be a real positive and, as you know, I'm just a charming person," Buchanan insisted, adding that "compared to what I did in the past, this is an easy sell."

"It's so negative and TV is more difficult than ever in the sense that it's really not an honest debate anymore," she said of her television talking head days. "I can't just live my life going on TV and being angry all the time."
And, well, I've got no snark about that. Oh, as a pundit, she was great snarkfodder but it's kind of nice to think that someone can look at being a tv talking head person and walk away if it actually isn't fulfilling or useful to them (or anyone else, for that matter). And after looking over Bette's grand recap of some of the GOP's post-electoral shenanigans, I shouldn't wonder if other conservative spokesfolks wouldn't be thinking of doing something along the same lines. Just as happened shortly after the 2008 election, one expects to see some "serious" pundits (think Frum, Douthat, Brooks), plump for "Conservative smarter", while seeing bloggerati go for "Conservative harder." But the old tricks won't be unlearned and there's no point in message tweaking when it's the ideas that aren't hitting it with people.
What's left isn't "going Galt" but "going straight". Not that I'm advising the opposition party in what to do, after all. But I do wish Bay Buchanan luck in her new field, where selling a "fixer-upper" might bear the promise of actually being a fixable commodity.
Posted by Vixen Strangely on 01/28/13 at 10:12 PM • Permalink