No, Seriously, Bqhatevwer, okay?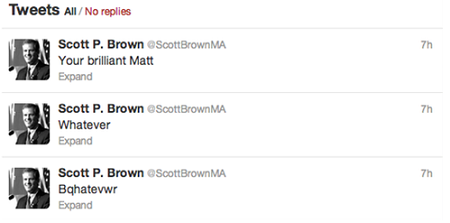 Now, imagine you were a former senator who had recently lost a fierce battle, turned down the opportunity for a new senate campaign, and just joined FOX News as a contributor. It's a busy handful of months, yes? But would you necessarily be picking at a recent wound like the "Bqhatevwer" tweets? You know, as if they were a thing? Would you go out of your way to explain them? Especially if that way made no sense?
You might if you were Scott Brown:
"Anyone ever hear of pocket tweet, pocket dial? I mean it was pretty simple, you know. I have an iPhone 5. If anyone has an iPhone 5, the keys are small," Brown told Boston's FOX 25. "It's very, very sensitive."

He said his daughter had been teaching him how to use Facebook and Twitter, but "there are some areas that I didn't really understand."

"It was after her concert, we were here right in the living room and I responded to a couple of people. And then I put it in my pocket," he said.

One of the tweets — "bqhatevwr" — quickly became a meme and was widely mocked.

"The next thing, I wake up and I said — it trended worldwide. Worldwide trending on a pocket tweet," he said.

FOX 25's Maria Stephanos then asked whether the tweets were just a mistake. "What else would it be?" he replied.
Okay, player—what else could they be? Let's stipulate you were sober, because, really, I don't care who drinks and who doesn't, because I get 'faced now and again, my ownself. Maybe you just had a case of the fumblefingers, typo'd, and then made Tweets you didn't have to explain because, duh, just Tweets.
Instead, we get an explanation about asspocket-dialing. On an iPhone 5. Now, I have an Android phone myself, but it does have one of those touchpad deals. It doesn't even recognize my dry-skinned fingers unless I've used a little lotion. They aren't so weirdly receptive that you can post nonsense handsfree—and even if you could—it would be nonsense. Although there was this one time I nearly texted pi to the tenth decimal place with my butt. It was all like:
"3.1419526535"
And I'm like "That's random—except if that was pi, it would be '3.1415926535'—I thought my ass knew math!" and it was when I had a phone with an actual, not virtual keyboard, and I might have been tipsy like erryone else in the club, oh yeah, and I made that up because you can't ass-dial a nearly statistically improbable series of numbers anymore than you could a nearly-English language Tweet. So, like, why front, Brown?
Unless, as is the contention of, I believe, most of us here at Rumproast, this Scott Brown guy just ain't bright. Thus, "Bqhatevwr" has become one of our tags to symbolize not-bright things conservatives say. And I thought I would throw this down about the legend of Brown because he may resurface as a gubernatorial candidate in MA or something. And our auld acquaintance with this knob shouldn't be forgot. So bqhatevwer for auld lang syne, my dears. His ridicule is just and deserved.
Posted by Vixen Strangely on 02/19/13 at 10:53 PM • Permalink