Rand Paul is on the Case….Get Him Down Before He Hurts Himself.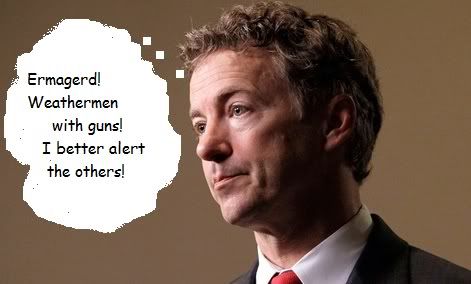 I'm willing to entertain the possibility that when Sen. Rand (son of Ron) Paul Tweeted about the National Weather Service acquiring 46,000 hollow point bullets and linked to infowars.com, he was simply as bemused as anyone else would be about what meteorologists would need that kind of ammo for, without necessarily buying into the idea that weathermen had had enough of global warming denial and were going to go commando on someone's ass.
That doesn't mean that's what I necessarily do entertain. Actually, I'm more entertained by the idea of RWNJ's genuinely concerned about the possibility that government scientist thugs are loaded for bear and taking no prisoners.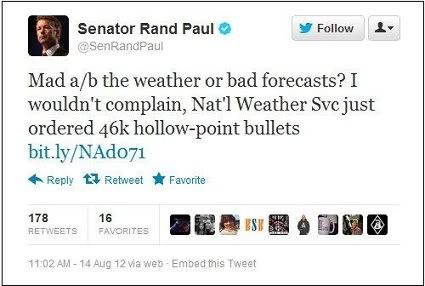 Now, that Tweet takes us to infowars.com, which is a hot mess I'm sure many of you are already familiar with. They reference Fast and Furious, because naturally, if you wanted to start a false flag operation that would ultimately lead to an epic gun grab, you'd arm NWS personnel. Think about who those guys are, am I right? Aren't those NOAA weather maps just a little too accurate? And haven't you ever wondered about just what their satellites are really for?
But it turns out the story is that the NWS was named on the invoice, but the actual division that the ammo is for is NOAA Fisheries Office of Law Enforcement.
Likely story? They're looking to rub out retired Starkist mascot Charlie "The Tuna". He had his fins in a lot of pies….
Actually, hollow points are serious ammo. Maybe they're using them on grizzlies if they do investigations up where the salmon run? I dunno, people. Heavy doings. Be glad at least one US Senator is on it!
Posted by Vixen Strangely on 08/15/12 at 10:02 PM • Permalink