See, that's what I was missing!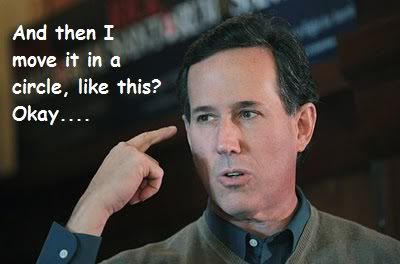 I thought the reason I was feeling down, sluggish, half-hearted and all was because I was missing the excitement of the competitive GOP primaries, but you know, that wasn't it. I was specifically missing one guy: Rick Santorum. But this week, my former senator has unleashed a new organization and will continue to stain the political landscape with bigoted nonsense do his political thing (which is, actually, staining the political landscape with bigoted nonsense). It's called Patriot Voices, and it's going to be hotter than a….teabag. In a very hot cup. Making tea.
What's it all about?
"Patriot Voices is committed to promoting faith, family, freedom and opportunity," Santorum said in a news release that accompanied his announcement. "We believe that we're one nation under God and all we do must be consistent with the Declaration of Independence, Constitution and Bill of Rights. We support candidates who share our convictions and hold those accountable that serve us in elected office."
"Faith, family, freedom and opportunity". There's a slogan in that, for you. Actually they're working on an issues primer: "America, apple pie, abortion"; "Bullets, birth certificates, Bible" and one particularly for the ladies "Church, children, chattel"..
You may ask, aren't there already conservative organizations abound, raising money and supporting conservatism, and, uh, raising money and supporting conservatism, and….holding conventions and whatnot? All your Tea Party groups and think-tanky things, and other clubhouses with nifty badges and the like? Well, yeah, but this one has Rick Santorum. So. You can see the immediate appeal. He's a respected former senator and was a serious candidate for president. So he has the determination to get himself Mitt Romney elected president. And defeat Barack Obama and people who support his policies (such as gays, environmentalists, and blahs.)
And what's the plan? Well, the first goal is to get a million supporters. I guess he could recruit those Millions Moms I keep hearing about. (I'm cynical. I don't think there are a Million Moms. I don't even think they're mostly moms. Some mothers, maybe….) Then, they are going to accept unlimited funds (yay—ALL THE MONIES!) and work with the Red White and Blue Fund SuperPAC (yay, ALL THE OTHER MONIES!) to get Rick Santorum's campaign debt gone, get Rick Santorum a VP spot, to totally keep Santorum in the spotlight for 2016 to get Mitt Romney elected. Because Rick Santorum!
Posted by Vixen Strangely on 06/09/12 at 03:54 PM • Permalink