Slappin' at Skeeters and Scratching My Head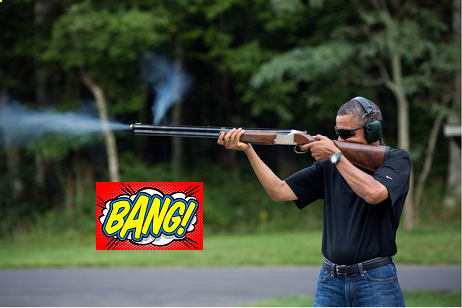 I think it's a sad day in journamalism when the question of whether President Obama really, really, for really truly and honest-to-gosh "goes skeet-shooting all the time" at Camp David is seriously fact-checked. And yet I think it's a hilarious day when Breitbart's very own John Nolte questions why no one is questioning the fact checkers. Quis custodiet ipsos custodes, dig? Woodward and Bernstein once brought down a president with Watergate—but today's lapdog press is blindly accepting photographic evidence debunking Skeetgate that was made in the very same seat of the powerful that brought us such sheer propaganda as….
Anyhow, he asks us to consider the evidence:
Today, however, the White House released a photo that purports to show Obama (love that tucked-in shirt) shooting skeet last August. Except… he's shooting straight ahead, which means that there's either a barn door somewhere in need of some patching, or Obama is such an awesome skeet shooter, he hits them as they come out of the firing device.

I keed, I keed. There are legitimate reasons that would explain the angle of his gun, but….
(I humbly submit that since there is smoke coming out the barrel, he has already shot and lowered the rifle, probably because it makes sense in the linear stream of things. And I've watched many episodes of CSI. CSI: New York and Miami, too!) And of course, the press is only doing it to make the skeet-truthers look stupid! Because…um. Right.
Can anyone remind me again why this is supposed to matter?
Posted by Vixen Strangely on 02/02/13 at 04:37 PM • Permalink