The Grift that Just Stopped Giving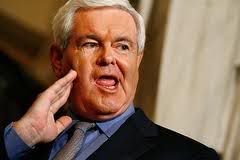 This is just a hit'n'run, but it looks like all former GOP Best of the Worst contestant Newt Gingrich's business ventures have hit the same kind of skid his presidential ambitions did:
(Reuters) - ATLANTA - When he entered the race for the Republican presidential nomination in May 2011, Newt Gingrich was the prosperous head of a small empire commonly known as Newt Inc, which included both for-profit consultancies and nonprofit foundations.

Altogether, these entwined ventures pulled in more than $110 million over the past decade. Now the vestiges of this empire are mired in debt, as is Gingrich's campaign fund.
I find this sad, in a way. When Griftrich started with the whole "I know, let's run for President!" scam, I'm pretty sure he was just looking on it as a nice way to see the country and eat out a lot and sell books. It was all going to be kind of like a working vacation. The problem was probably South Carolina. You know what I mean. Never believe your own bullshit. Once he started actually campaigning….that was it. Real campaigns are expensive. Even more than Tiffany's kind of expensive.
He even owes his good friend Herman Cain money. I wouldn't want to owe Herman Cain money, would you? Those weird ads with the animals—they're kind of like a warning of….something.
Anyway, even I, a person who has disliked Newt since, oh, the early '90's, feels bad enough to want to do something. Probably toss quarters at his big old head if I ever see him, but you get the idea.
(You know, I was thinking of posting some more nonsense from the Breitbartlets' Vettenings , but honestly, how dumb is this thing gonna get before it's over? Obama might have had lower test scores than Bush? Wake me up when they get to "Is this gum wrapper on the ground Obama's? Is he a stone-cold litterbug?")
Posted by Vixen Strangely on 05/22/12 at 10:45 PM • Permalink