The Noble Knight of Nineelevenstan Strikes Again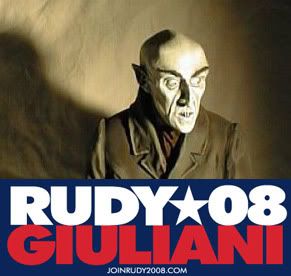 Oh, good christ, if this fucking ghoul milked it anymore the cow would be udder-less:
"... And my personal view of it is I need God's help for everything, and I probably feel that the most when I'm in crisis and under pressure, like Sept. 11, when I was dealing with prostate cancer, or (when) I'm trying to explain death to people, which unfortunately I've had to do so often." [...]

Giuliani also addressed a cell phone call he took from his wife, Judith, last week during his speech to the National Rifle Association, an important appearance because Giuliani clashed with the group when he argued for tougher gun control as mayor of New York.

"And quite honestly, since Sept. 11, most of the time when we get on a plane, we talk to each other and just reaffirm the fact that we love each other," he said.

"Sometimes if I'm in the middle of a very, very sensitive meeting, I don't take the call right then; I wait. But I thought it would be kind of nice if I took it at that point, and I'd done that before in engagements, and I didn't realize it would create any kind of controversy," he said.
He really should just have two guys dressed up as the smoking World Trade Center towers follow him around everywhere. It wouldn't be much more tasteless than spitting out the date like it's a Tourette's syndrome tic.
(via Eschaton—image found at blacksundae)
Posted by Kevin K. on 09/29/07 at 07:58 AM • Permalink
Trackbacks (0) •