Trump U Does Have a Certain Ring, No?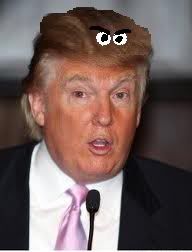 It looks like The Donald is being The Sued over a kind of "get-rich eventually" program that he was kindly enough calling a school. Trump is of the opinion that this suit against him is politically motivated, because…hm. He could be a somebody. He could be a contender. Instead of a bum, which is what everyone who notices that he is a bum makes of him on teh internets. But let's hear what he has to say:
"...."
Oh. Wait. What does his spokesperson have to say?
"The attorney general has been angry because he felt that Mr. Trump and his various companies should have done much more for him in terms of fundraising," Cohen said. "This entire investigation is politically motivated and it is a tremendous waste of taxpayers' money."

State Board of Elections records show Trump has spent more than $136,000 on New York campaigns since 2010. He contributed $12,500 to Schneiderman in October 2010, when Schneiderman was running for attorney general, records show. An outspoken conservative, Trump himself flirted with a presidential run last year.

"Donald Trump will not sit back and be extorted by anyone, including the attorney general," Cohen said.
I am astonished that wealthy people in America donate to campaigns ever, or are concerned that their money bought them influence. Why do they even bother? It's nonsense, is what it is. Clearly, extortion is that thing of when, you thought you bought protection, but oh no, You "bought" people who bring legal cases against things you might have done that were illegal like it was their job. Huh. Maybe attorney generals are not good investments if you are running a "get rich eventually" scheme." Also not a good investment? The word "University". Don't bother copyrighting that one, you shan't use it legally.
What I'm saying is, once (as in not) and future (as in not) Presidential Candidate Donald Trump is kind of a grifter. As in duh. But I bet he is still popular with the sort who likes his kind of…
Oh what the fuck—remember Lifestyles of the Rich and Famous? (It was MTV Cribs for '80's celebrities.) That's all of his appeal. Otherwise seriously. Ask him about anything. Besides whether any politician is a legit citizen. And let the derp ensue. (Not that I think he won't be faux elevated in the press again, because I do—which is why I point out his "duh".)
Posted by Vixen Strangely on 08/24/13 at 09:57 PM • Permalink