Trumpth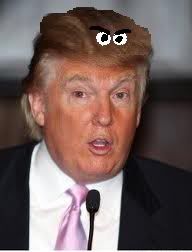 The incomparable comedian and writer Steve Allen coined a useful term "dumbth" as a measurement of the willful ignorance of the (particularly) American people as a part of his book of the same name which suggested ways in which education could be improved. I humbly suggest "Trumpth" to mean the kind of willful ignorance that only the Donald Himself displays the way he does, and which is naturally personalized with his very own name, just like one of his buildings. It was his dumbth that made the Donald a birther; but it's sheer Trumpth to think that his ignorant Twitterings could or should make President Obama render information like his school records—that no president has really ever been asked for before—public.
It's an illness with me that I pick at things. A hangnail. A bugbite. Donald Trump's stupidity. Indulge me. Because unless I totally explore the joke that is Trump's awkward foray into politics, I can never really expand adequately on the joke that is Mitt Romney (Mr. Clean! snerk) and Donald Trump (bad cop?) in an alliance against President Obama. Because that—is what I'm staring at—
See, from the time that Trump endorsed Mitt to the time that it became clear that Trump was way down the rabbit hole on birtherism (contemporaneous, natch), I wondered when a more sober and circumspect Romney would distance himself from the iron grip of a genuine nutter. And then he didn't. In fact, it looks like Mitt is pleased enough that Trump is willling to repeat the shameless lies of his advertisements:

even though they are quite clearly wrong; so long as Donald Trump will lend his CEO of a particularly (un)helpful 1980's, art of the deal, greed is good, lifestyles of the rich and infamous cache to the campaign—in the form of everyone's favorite form of campaign communication, the robocall, Romney is quite willing to embrace this kind of dumbth—the Trumpth, for all it's worth.
I'm a cynical person. I do not understand this. Why does Romney want to embrace the success of tehstoopid? Is this the signal that "willfully dumb" is the new Republican smart? Is that why Unskewed Polls is so popular? And does anyone on that side suspect this is the sort of thing that even makes smart Republicans think of endorsing Obama because of odd factors like functional government and acceptance of science?
And p.s.—really? Is Donald "You're Fired?" Trump the guy you want to represent you to the same people you're trying to convince you aren't the kind of guy who benefits from the auto-bailout while you are an outsourcer? So very tone-deaf and so totally Romney.
Posted by Vixen Strangely on 11/01/12 at 11:09 PM • Permalink