Veepstakes 2012: Some Just Come Out and Say "No."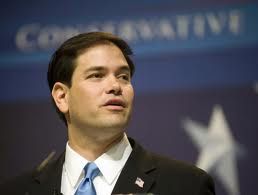 There's a pretty good article I just read regarding the Veepstakes that reminded me of one of the bigger issues Romney might face in picking a running mate—some of the better picks just don't want the job. Among people who've indicated they aren't interested in being a running mate: IN Gov. Mitch Daniels, former FL Governor Jeb Bush, NJ Governor Chris Christie, and FL Sen. Marco Rubio. That's an interesting collection of "no's", having a pretty good overlap with the pool of people that GOP voters kinda-sorta wanted to run in this primary instead of the choices they got.
The reason for all these "no's"? My guess is because they are plausible candidates who simply like the odds of going anywhere with a run better in 2016, and don't want a disaster of a run this year to mar their reputation. There's something to be said for waiting. This is especially true for Sen. Rubio, the youngster in the group, who not only has plenty of time but reason to believe his chances are better once he has more experience. But also, I note that endorsements of Romney are less-than-enthusiastic—running with him might also sound like a huge bummer to anyone interested in successful campaign.
Some of these politicians might be interesting to check out anyway, since we'll probably be looking at their mugs in August 2015, somewhere in a diner in Podunk, Iowa, trying to look their electable best into a crowd of cameras and at jaded corn farmers—but they said "No." And really, I don't want to explain all the issues I have with the seriousness that Serious People treat Mitch Daniels, or speculate about Gov. Christie's need to translate his personality better to people outside the Garden State. There will be time for that.
Also, part of me doubts we'll really ever hear from Jeb Bush again as a candidate—if he were the smarter brother, he'd have done his damnedest to run for President before W.
Posted by Vixen Strangely on 03/30/12 at 11:37 PM • Permalink