Wednesday, March 11, 2015
Senator Rubio and The Foreign Policy Gap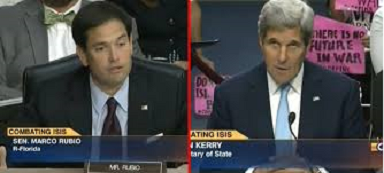 Via ThinkProgress, an important moment in the discussion regarding US foreign policy with respects to Iran occurred between Senator Marco Rubio and Secretary of State John Kerry:
During a tense exchange with Kerry at a Senate Foreign Relations committee on Wednesday, Rubio confronted the former Massachusetts senator. "I believe that much of our strategy with regards to ISIS is being driven by a desire not to upset Iran so they don't walk away from the negotiating table on the deal that you're working on," the potential GOP presidential candidate declared. "Tell me why I'm wrong."


Kerry responded forcefully. "Because the facts completely contradict that," he said, before offering to discuss more details in classified session with Rubio. But the likely GOP presidential contender didn't take up the offer and pressed on with the line of questioning, claiming that the United States is going easy on terrorism because Iran does not support America's campaign against ISIS.
But of course, the two assumptions that he has are false—of course, the US is involved in fighting ISIL, whether Sen. Rubio thinks the response is adequate or not, and of course, Iran is also opposed to ISIL, because why in the world would a Shiite government want a radical Sunni Wahhabist caliphate in their backyard? To think, nay, insist, that the Obama Administration is soft-pedaling the fight with ISIL to please Iran would be weapons-grade ignorance. And that is precisely where Rubio is coming from.
Posted by Vixen Strangely on 03/11/15 at 09:19 PM
Permalink