Sunday, August 12, 2012
The GOP Meta-Whinge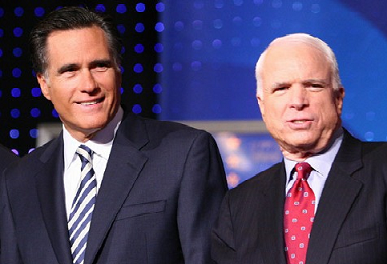 This is just the briefest of observations, but here's Sen. McCain's whine about how the Obama Campaign is picking on poor little Mittens:
Appearing on "Fox News Sunday," Obama's 2008 opponent weighed in on an ad by the pro-Obama Priorities USA that implies Romney was responsible for the death of a cancer-stricken woman after his company took steps that cost her her job and health insurance.

"In 2008, this president and the people around him promised hope and change, a new environment in Washington," McCain said. "And now it's probably deteriorated into the most negative, most unpleasant, most disgraceful campaign that I have ever observed, and I've been intimately involved in them since 1984."

"I've got to give them credit, they have succeeded to a certain degree, of painting — with nothing but attack ads — Mitt Romney into something that's not an acceptable alternative, because he can't run on his record," McCain continued.
But….but….if Governor Romney was really, really proud of his record, and it showed that he was actually better than President Obama, why wouldn't he run on the strength of his resume? I mean, otherwise, all he has is attack ads that make up stuff about Obama's record, right? After all, the "you didn't built that" and the welfare work waiver things are patently bullshit attacks, so, um, what is the real complaint about negativity here? And yet, this is uniformly what the GOP is whining about. Like Reince Preibus with his "blood on Obama's hands" nonsense, and the "stealing" of $700K (or was it $500K) in Medicare funds that had nothing to do with effecting anyone's coverage.
As we all know, Romney really wished Obama would stop talking about his tax returns and start talking about issues. Well, I don't know if the Obama campaign really should go that far, but in the interest of good will, they could preface the negative things they say about the Bully/Brown-noser ticket with something nice. You know, just a little compliment. Like saying, well, "I think you are a couple of very handsome guys….who want to destroy the middle class". Or, you know, "Here are some fellows with great families…..but they have in for your grandparents." "I've seen their front yards, and yes, the trees are the right height….but they'll probably get us involved in a pointless war because they know fuck-all about foreign policy and all their advisers sound like John McCain."
See? Negativity cut by half, right there.
Posted by Vixen Strangely on 08/12/12 at 11:16 PM
Permalink