Friday, February 15, 2013
A Den of Furry Iniquity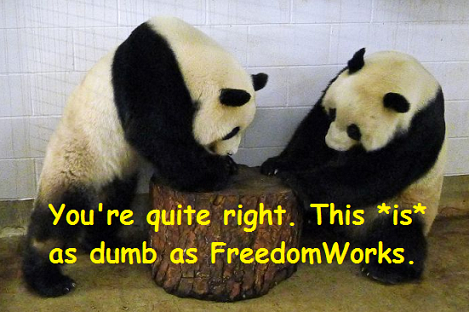 You know, I've been percolating over a long-form thing about FreedomWorks, and the revelation that the whole Tea Party notion is a decade-long bit of Astroturf cooked up between the cancer-denialists of Big Tobacco and the Koch brothers, which is all of a piece with the unifying theory of modern conservatism ("Grifters gotta grift"), but you know what? Forget it. That could be a book, someday. In the meanwhile, I think this is as insightful a glimpse into the mentality of these Kochtopi as anything you could find:
Some FreedomWorks staffers worried last year about a promotional video created ahead of FreePAC, a FreedomWorks conference held on July 26, 2012, where thousands of conservative grassroots activists nearly filled the American Airlines Center in Dallas to hear from tea party favorites, including Glenn Beck and Sen. Mike Lee (R-Utah). The short film hailing FreedomWorks was intended to play on the large video screens inside the arena.

In one segment of the film, according to a former official who saw it, Brandon is seen waking from a nap at his desk. In what appears to be a dream or a nightmare, he wanders down a hallway and spots a giant panda on its knees with its head in the lap of a seated Hillary Clinton and apparently performing oral sex on the then-secretary of state. Two female interns at FreedomWorks were recruited to play the panda and Clinton. One intern wore a Hillary Clinton mask. The other wore a giant panda suit that FreedomWorks had used at protests to denounce progressives as panderers. (See here, here, and here.) Placing the panda in the video, a former FreedomWorks staffer says, was "an inside joke."

Another FreedomWorks staffer who worked there at the time confirms that "Yes, this video was created."
Uh. Huh. A very serious conservative advocacy group, indeed.
Posted by Vixen Strangely on 02/15/13 at 07:46 PM
Permalink