Monday, March 16, 2015
Warmongo Only Pawn in Game of Life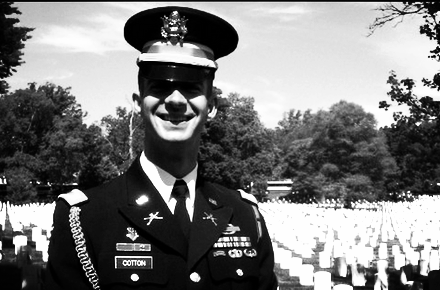 I think it was when Sen. Cotton actually said that Vice-President Joe Biden had never been right in 40 years (more years than this punk has been alive) that I basically had it—when in the two months this arse has been a senator has he risen to the opportunity to be right?
There's a real question regarding where this stupor mundi came from, what with his senate run being well-funded by the usual neo-con suspects, and the hard-right economic Spartans—Club for Growth besides; to launching this letter with 46 GOP confederates and then having a nice little handshake to-do with defense contractors. (His confederates have varyingly dumb ideas of why they went along with this.)
Neidermeyer Cotton is apparently a very driven sort of person. Made his way to Harvard as nothing less would do, and turned like Cincinnatus from the plow of his studies to war at the time of our nation's need. Quotes the Founders and philosophers. Comes off a little bit like Otto from A Fish Called Wanda, that last bit.
Posted by Vixen Strangely on 03/16/15 at 12:00 AM
Permalink